The Duel - Source Archive
Invention, it must be humbly admitted, does not consist in creating out of void but out of chaos. Any artist knows these truths, no matter how deeply he or she submerges that knowing.1
My work builds on a tradition of appropriation where I reference and rework original documents. I create new documents based on narratives of the past.
 
The appropriation of ideas and images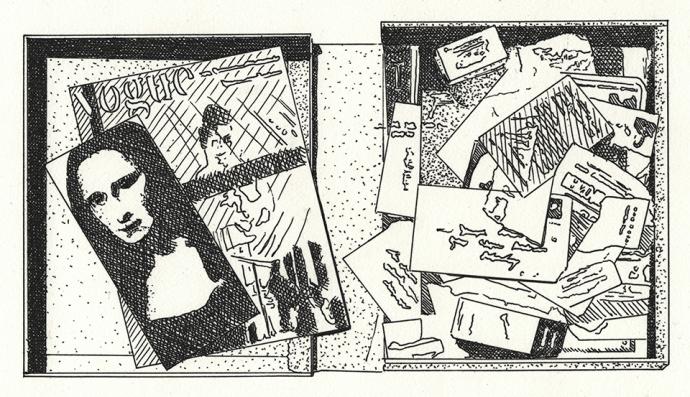 Andrew Douglas Underwood, Drawing of Joseph Cornell's Duchamp Dossier, c. 1942-1953, 2012; pen and ink; image courtesy the artist.
Joseph Cornell collected letters, photographs and assorted ephemera to assemble what he called "dossiers." The dossier he created about Marcel Duchamp was the subject of the book
Joseph Cornell/Marcel Duchamp … in resonance.2
Cornell built his art around collections and the associations he created. Like Cornell, I build archives associatively, building a constellation of resonances between many different materials. 
Much of Marcel Duchamp's work pushed at the boundaries that girded artistic practice of his era (with his readymades, Duchamp isolated concept as that which makes something art). With the Duchamp Dossier Cornell merged his practice—collecting, refining and re-presenting—with the edginess of Duchamp's oeuvre.
Aesthetically pleasing or engaging through complexity, Cornell's dossier pulls a bait-and-switch and reveals an unexpected friction.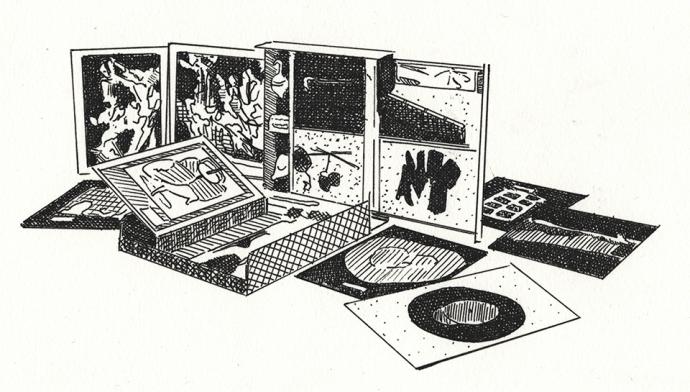 Andrew Douglas Underwood, Drawing of Marcel Duchamp's La boîte-en-valise, 2012; pen and ink; image courtesy the artist.
 
Ever since [Marcel Duchamp] fashioned this ur-museum in a suitcase, there has existed a fascination within art with the procedures of the museum as archive, as the site of reflection on the prodigious output of historical artifacts, images, and the various taxonomies that govern their relationship with one another.3
 
The limits of human perspective
In the Indian fable of the blind men and the elephant, each blind man touches the elephant in a different place and has a different experience. One man touches the tail and thinks the elephant is a rope. Another feels a tusk and believes the elephant is a solid pipe; and another, upon feeling the elephant's side, argues that the elephant is a wall. The story highlights the limits of human perception and subjective experience.
My archives piece together fragments of a narrative. The fragments reflect human experience and its limits; particularly those that arise from the piecemeal nature of perception. Yet the archive, unlike the experiences documented within it, can be tightly controlled.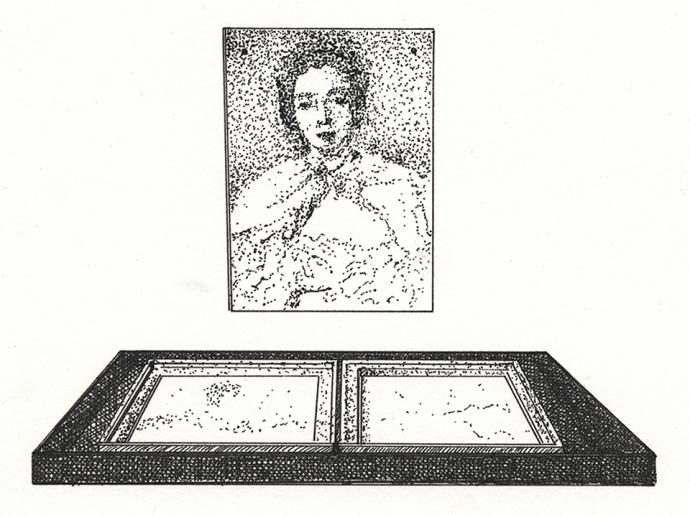 Andrew Douglas Underwood, Drawing of Paul Etienne Lincoln's In Tribute to Madame Pompadour and the Court of Louis XV, 2012; pen and ink; image courtesy the artist.
In 1995 I visited the exhibition Going for Baroque at the Walters Art Museum in Baltimore. One work in particular drew me back repeatedly: Paul Etienne Lincoln's In Tribute to Madame Pompadour and the Court of Louis XV (1985). A large vitrine, Lincoln's work houses two pristine folios filled with ephemera relating to one of Lincoln's performances and a sheet of glass silk-screened portrait with of Madame Pompadour—Louis XV's mistress—suspended at the top of the vitrine lid.
The extraction of phenomena from time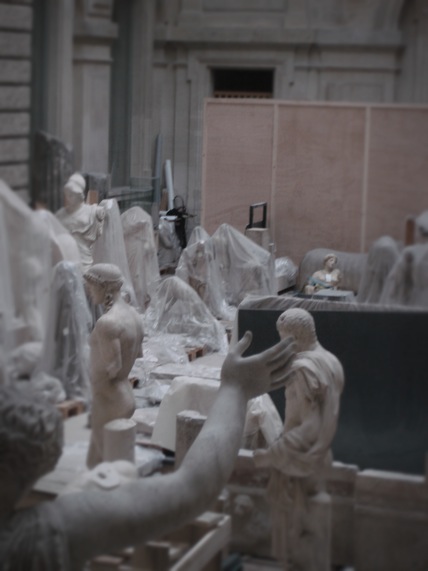 Andrew Douglas Underwood, Louvre, 10 0731, 2012; photograph; image courtesy the artist.
From the beginning photography recorded events. Photography freezes time as a moment is documented. Thus photography may act simultaneously as an archivist and as an archive component.
Photography is about finding out what can happen in the frame. When you put four edges around some facts, you change those facts.

-- Garry Winogrand
The effects of emotion on perception
There are many factors that may influence current perceptions of events from another era. A modern sensibility makes it difficult to imagine a conflict escalating to the point where a duel was the only logical solution. Engaging in a duel seems not like the behavior of gentlemen but of madmen.
In the early 1800s perceptions were different, and dueling was an acceptable solution to a conflict in certain circles. For Hamilton, who witnessed a duel at an early age and was repeatedly exposed to the practice, dueling may have seemed simply as something required of him. Though he may have planned to throw the duel with Burr—as a number of sources attest—it was a matter of honor that he proceed.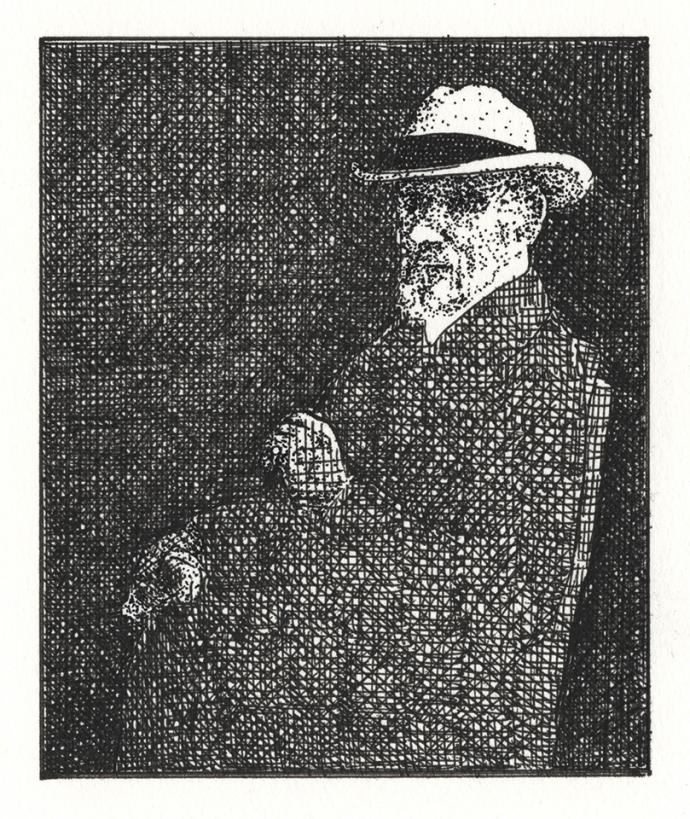 Andrew Douglas Underwood, Drawing of Isaac Cline, 2012; pen and ink; image courtesy the artist.
This is my scanned drawing of Isaac Cline. He was the chief meteorologist of Galveston, Texas from 1889-1901. Because it was a port city, Galveston would have later surpassed Houston in population and wealth had it not been for the worst natural disaster in U.S. history. Cline's influence in the town helped prevent the construction of a seawall that would have protected Galveston from hurricanes such as the one that devastated the city on September 8, 1900. Cline's theory that his city was protected from severe weather was proven tragically incorrect when thousands were killed, and Cline himself nearly died in the storm. Though his three daughters were saved, he lost his wife and her unborn child.
Erik Larson extrapolates a linear narrative from a wide swath of archival information relating to the Galveston hurricane in his book Isaac's Storm. Larson's investigations place the story of Isaac Cline in a broader context; his research method and his way of relaying information share similarities with my process. Where Larson's book transforms fragments of documentation into a linear narrative, my archives take historic ephemera, unmoor them from linear ways of relating history, and allow new relationships to form between objects.
The collector and the collection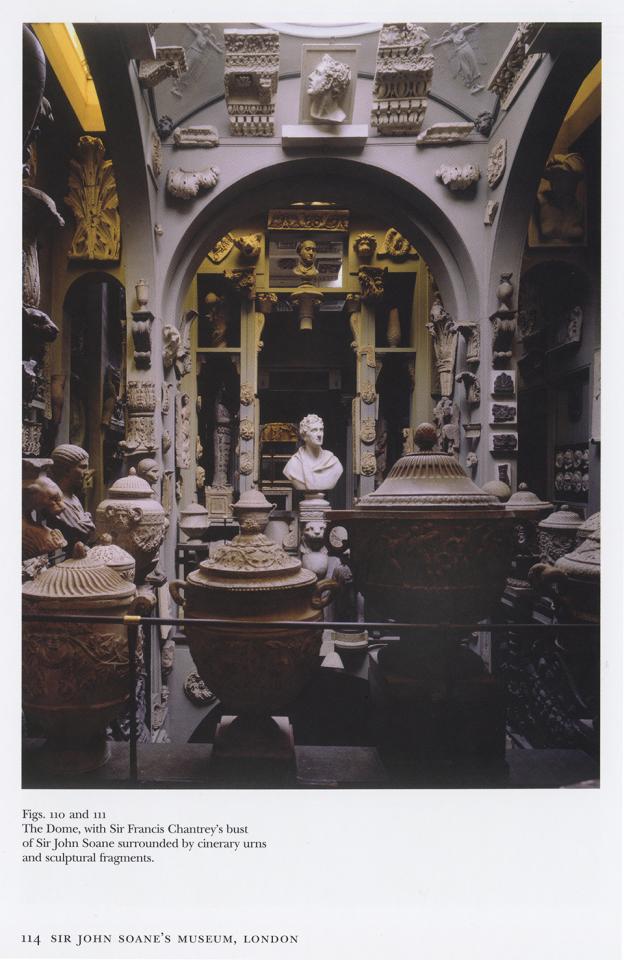 An English architect, Sir John Soane was greatly inspired by his Grand Tour in Italy. Soane returned to Italy many times, collecting artifacts on his trips. Soane's passion for collecting and archiving is in overwhelming evidence when walking through the Sir John Soane Museum.
Collections are appropriations. An object is consumed in order to know it better. The object becomes a part of the collection, and by extension it represents the collector.
Like museums, archives contain artifacts sequestered from a previous life. New sites cause new relationships to develop between objects, documents and places. Collections, either public or private, intrinsically change the perception of an object removed from its original context. In its first life an object may be thought of as magical or powerful. When that object enters an institution as an example of the culture from which it derived, the object becomes a relic for study; its power fundamentally altered from its previous life.
The nostalgia of memory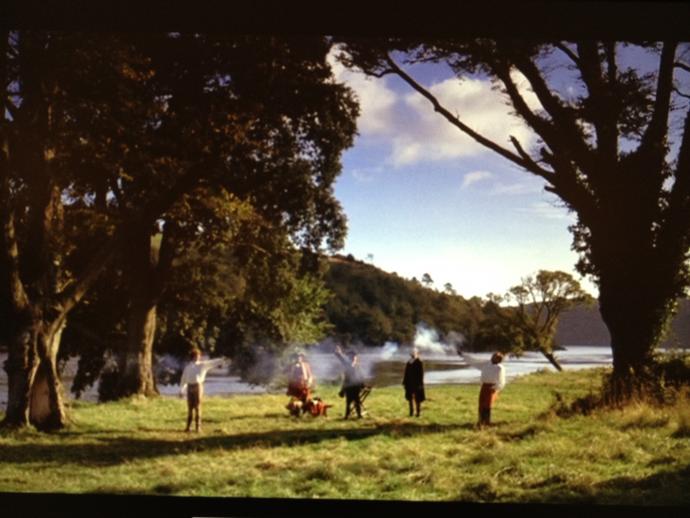 Stanley Kubrick, still from Barry Lyndon, 1975.
A mental reshuffling of remembered and new information tags the mind as a highly flexible archive. My image of the duel between Hamilton and Burr blended with a memory of Stanley Kubrick's duels portrayed in Barry Lyndon (1975). This served as my point of entry into At the Weehawken Dueling Grounds, July 11, 1804.
Impressions of a moment in the past are the province of nostalgia. Memory takes on a gravity it didn't originally possess. The hard edges slip away to leave a softly-focused version of a moment that never happened the way people remember it.
 
In conclusion
The documents collected in an archive systematize history. From overt actions to the subtle factors at play in a moment of historic significance, what happens takes place organically beyond human interference.
The archive is a collection of ideas and objects that tell a more complex story when assembled. The archive preserves ephemeral moments and turns them into history. Reconstructed component parts build associations that point to the original, but the archive is by its nature separate from the moment it documents.
 
This article is part of " At the Weehawken Dueling Ground, July 11, 1804," by Andrew Douglas Underwood. Other parts of this project include:

At the Weehawken Dueling Ground, July 11, 1804 by Andrew Douglas Underwood 
The Duel: An Interview with Andrew Douglas Underwood 
Burr by Michael Agresta 
On Archives and Absence by Laura A.L. Wellen 
and our editor's statement 
1. Jonathan Letham, "The Ecstasy of Influence: A plagIarism," Harper's Magazine February 2007.
2. Susan Davidson and Ann Temkin, Joseph Cornell/Marcel Duchamp … in resonance, (Berlin: Hatje Cantz, 1998). With a contribution by Walter Hopps.
3. Okwui Enwezor, Archive Fever (New York: International Center for Photography, 2008).